STARDUST – PINK DRUSY - NECKLACE
Regular price

Sale price

€35,00
Hurry, only 1 item left in stock!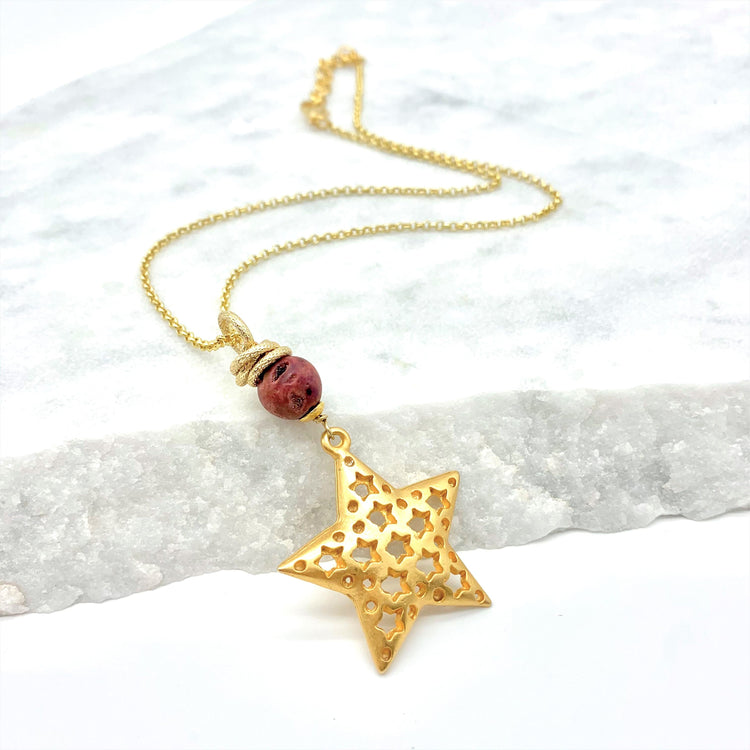 Product Details
Drusy Agate. Gold Plated. Nickel free

Length: 17 inches, adjustable to 20 inches
Pendant is removable as to also be enjoyed separately.
A beautiful extension to the Stardust range is this truly magical gold plated star with tiny little stars within suspended from a Drusy Agate crystal, which radiates energy of light and joy. It enhances natural healing physically, mentally, and spiritually. Another property of this lovely crystal is that it strengthens ones immunity and a general sense of well being. Stars are a sacred symbol of divine guidance and protection making this combination an absolutely divine and thoughtful piece of jewellery!
Gemstones are derived from nature making each one of them unique, for that reason there could be a slight variation in colour between one product and another.
Our 'Cosmic Love' Collection is romance personified. Don't we all love to gaze at the beautiful moonlit skies and galaxy above. This collection is a reminder to always shoot for the moon because even if you miss it you will land among the stars, just as you will do by enjoying the magic of this beautifully handcrafted Jewellery.