FANTASY SEAHORSE – WHITE TURQUOISE – EARRINGS
Regular price

€35,00

Sale price

€22,75
Hurry, only 3 items left in stock!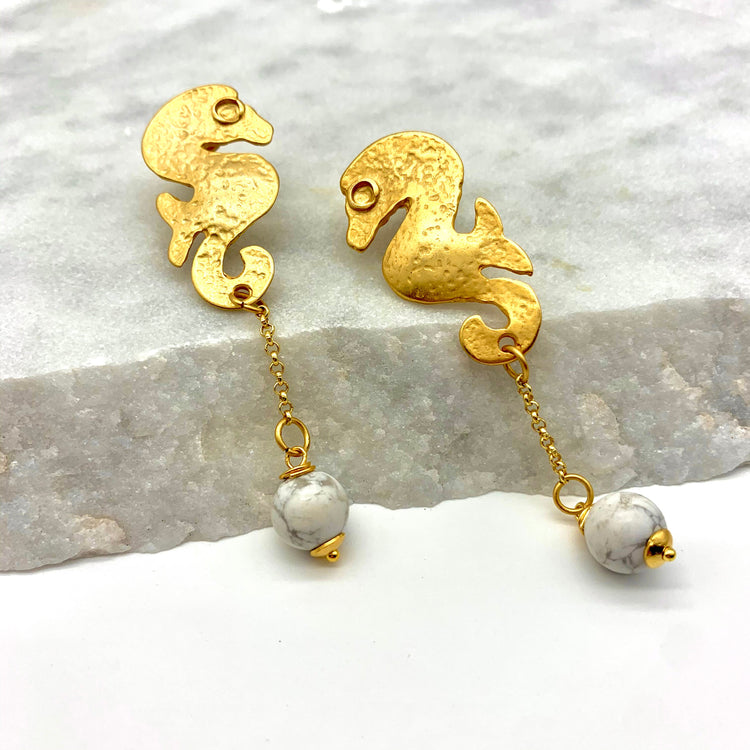 Product Details
White Turquoise. Gold Plated . Nickel free
Length: 3 Inches, 10mm Gemstones
The seahorse is a unique sea creature that brings tranquility and protection to the wearer, whilst White Turquoise promotes enlightenment and transformation. It is a popular healing stone, perfect for balancing the chakras. This charming pair of earrings has been designed with love and care making them a piece of jewellery to truly be treasured.
Gemstones are derived from nature making each one of them unique, for that reason there could be a slight variation in colour between one product and another.
Our 'Ocean Bliss' Collection is inspired by our magnificent seashores, oceans and the precious sea creatures that inhabit them. We bring you a vast selection of ocean life in our beautifully handcrafted jewellery to be enjoyed and cherished by each one of you.